Greenland it's home to some sophisticated cuisine.
I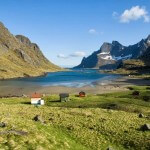 step off the boat for afternoon high tea and into the plot of an international love story, that of Agathe Devisme and Kalista Poulsen — not exactly what I expected at a sheep farm on a remote South Greenland fjord. But then again, that's not what the French architect expected either when she came to visit her sister studying agriculture at an experimental farm and school nearby at Upernaviarsuk where Kalista was a teacher. The two fell in love and she moved to Greenland, working there as a chef and housekeeper for a few years.
In 2005, when they could afford their own farm, they bought Ipiutaq and turned it into a working guest eco-farm — for which they have won an entrepreneurial award — including a rustic/chic cottage and featuring gourmet local cuisine. "I mix Greenlandic food and French tradition," says Agathe in a charming accent, serving cookies and finger cakes like rhubarb with the sub-arctic herb angelica, using blue harebells and crowberries and pouring tea into her grandmother's china. "Dinners might include dried and smoked reindeer with wild Greenlandic sorrel, or traditional "mattak" — whale skin — with my angelica-garlic-rosemary pickles."
Even after a week of touring the remote southwestern tip of Greenland, the world's biggest island hasn't eased up on delivering unexpected cultural, culinary and wilderness punches. I may be on an isolated fjord trafficked by polar bears where the nearest sign of neighbours are 10th century Norse ruins, but there is nothing backwards about this intriguing part of the world — it is at once rural and fiercely local yet also sophisticated and world-savvy, traditional yet stylish.
Greenland is a unique, home-ruled Inuit nation within the Kingdom of Denmark and the world's least populated country: more than three times the size of Texas, it has just 57,000 people, about 90% of them Inuit. As it hurtles toward complete independence from Denmark, it faces a roll call of 20th century issues from the world's fastest rate of global warming to Chinese mining conglomerates eyeing the rare earth and other minerals emerging from beneath the vast ice cap that covers ¾ of the island.
Most of the population lives on the ice cap-free west coast fringe and South Greenland is the lushest region. Even the Vikings thought so since Eric the Red & Co. set up farming colonies in 950 AD before mysteriously vanishing 500 years later. It's a remote cluster of a few towns and villages with no connecting roads so all travel is by small boat-shuttle (or hiking) up long, iceberg-dotted fjords. South Greenland is still the country's agricultural hub — its tender lamb is a sought-after commodity in Europe —making it an off-the-beaten-track foodie destination for those who also like to hike, kayak, get to know unpretentious locals or just cruise spectacular waterways beneath glacier-topped fjords.
I land at Narsarsuaq (population 158), South Greenland's gateway, on one of this mountainous country's few runways. Most were built during the Second World War by U.S. military as part of an aircraft supply route to Europe. I head to the Blue Ice café/shop/outfitter to meet Frenchman Jacky Simoud who operates the scheduled small boat shuttles and charters up and down the fjords. My plan is to base myself in the four-star hotel in the postcard-cute community of Qaqortoq and take trips to ruins, sheep farms, glaciers and trailheads from there. But, first, en route I'll stop at the village of Igaliku, (population 30), and considered one of Greenland's most scenic villages. I hop onto the little wooden Puttut, chugging through waters dotted with ice alongside hillsides dotted with sheep. Once ashore, it's an hour's easy hike up and over a slope toward the small community, an idyllic smattering of red, turquoise and yellow houses on the shore of a fjord. After spending the night in the tiny hotel, I poke around the 12th century ruins of Norse Greenland's religious heart, the seat of the bishop, then hike through wild lavender and lupin flowers for eight kilometres to a lunchtime lookout over Qooroq Glacier.
By late afternoon I have been shuttled to Qaqortoq ("Ha-hor-talk"), South Greenland's largest town (population 3,200), a cluster of colorful houses perched up a hillside overlooking the harbour. Up the steep streets I poke into shops selling Danish pastries and whale blubber and in the morning I head for the daily "country food" market where fresh reindeer, caribou, musk ox, Arctic char and halibut are sold on the waterfront. The hotel restaurant specializes in Greenlandic cuisine using these ingredients so lunch is an open-faced Danish sandwich buried in fresh Greenlandic shrimp and sipped down with Eric the Red Ale from Nuuk's Godthaab Bryghus microbrewery.
A moody sky and drizzle feel like an appropriate atmosphere in which to visit the stone ruins of a Norse farmstead at Hvalsey including a feasting hall, dairy and stables. The church is the most spectacular ruin, more than 50 feet long. Mentioned in medieval writings, the last reference to the Norse settlement in Greenland before it vanished was the wedding of an Icelandic couple at this church in September 1408.
For my last night I travel to the head of a fjord among bobbing blue "bergy bits," remnants of once-grand icebergs where I'm dropped at one of the sheep farms that host guests in the region, that of Lars and Makkak Nielsen. "Our sheep eat the wild thyme in the meadows and it flavors the meat," says Makkak, setting a platter laden with one of their crispy-skinned, slow-roasted lambs on the dining room table alongside a pot of reindeer stew. There are potatoes, turnips and carrots from the garden and angelica harvested from the wild. Dessert is tundra blueberry cheesecake. It's a meal similar to the one Makkak recently created for the television series A Taste of Greenland that is broadcast internationally and a hit in Europe.
Heading back to the airstrip at Narsarsuaq, the boat makes a final stop in tiny Qassiarsuk where a replica has been reconstructed from the ruins of the tiny Christian church Eric the Red built for his wife. Then we pass the foot of Qooroq glacier and drift awhile with the current, the absolute silence broken only by the sound of ice cracking, rolling and splashing into the fjord. A few chunks are hauled on board and chipped into glasses. Cocktails are poured and mini-explosions erupt in our glasses as 10,000 year-old air bubbles escape from ancient ice like Mother Nature's champagne.